Link to pdf file with the requirements for the CASD Kyu test
CASD Kyu test requirements as pdf
---
Youth classes 2019:
Youth class training time:
Tuesday and Thursday 16:30-17:20
Monthly fee: 250 kr.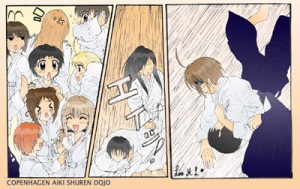 ---
Private Instruction
Private lessons by the chief instructor or other instructors can be arranged. Specialized instruction in weapons, tai jutsu, ukemi training or preparation for tests are some of the areas that can be the focus of personal instruction.
For information:
Tel. 4086 3212
e-mail: info@aiki-shuren-dojo.com