Upcoming seminar November 16th & 17th 2019
Ethan Weisgard Sensei
6th Dan Aikikai
TAI JUTSU SEMINAR

Seminar Theme: Kokyu Nage: Kihon, Awase, Ki no Nagare versions.
The seminar is open to all levels and organizations.
A basic level of Aikido training is necessary.
Location:
Yoga Fitness Club
Nordens Plads 4
2000 Frederiksberg
Schedule:
10:00-16:00. 4 classes both days.
Price:
500 dkk. for both days
300 dkk. one day
A light lunch is included in the price.
Enrollment:
seminars@aiki-shuren-dojo.com
Further Information:
Ethan Weisgard:  +45 4086 3212
Mikkel S. Kroner: +45 3060 4912
---
Link to pdf file with the requirements for the CASD Kyu test
CASD Kyu test requirements as pdf
---
Youth classes 2019 resume again on August 13th:
Youth class training time:
Tuesday and Thursday 16:30-17:20
Monthly fee: 250 kr.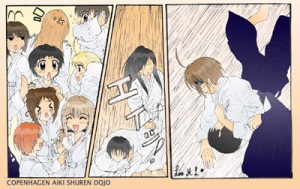 ---
Private Instruction
Private lessons by the chief instructor or other instructors can be arranged. Specialized instruction in weapons, tai jutsu, ukemi training or preparation for tests are some of the areas that can be the focus of personal instruction.
For information:
Tel. 4086 3212
e-mail: info@aiki-shuren-dojo.com