Current Covid19 situation training information
Please note that there is no training from 20 July – 2 August due to the summer vacation.
Training starts again Monday, 3 August.
We are glad to announce that our regular training is active again – under new circumstances.
The training schedule will continue through the summer season.
All classes take place outdoors in the "Søndermarken" park. (see below for exact location)
All classes are open for all levels.
As of this time all classes are based on training of the Aiki Ken (bokken: wooden practice sword) and Aiki Jo (wooden staff) techniques of Aikido.
For regular members: please bring your own jo and bokken.
All classes are open for trial lessons.
Please contact us regarding when you would like to try a class.
For trial lessons you will be provided with jo and bokken to use during the class.
We train in regular training clothes (not keiko gi).
We adhere strictly to the rules set by the government regarding correct distancing and proper hygiene.
Training schedule
Monday, Wednesday, Friday: 9:30-10:30
Tuesday & Thursday Youth Class (ages 10 – 15): 16:30-17:30
Tuesday & Thursday Adult Class: 17:30-19:00
Classes may be cancelled depending upon the weather. Notice will be given in these cases.
We have a specific private FB group page for all matters related to our regular training. Notices regarding training and related activities are posted in this group as well as sent by email.
Training location
The park entrance is on the corner of Valby Langgade and Bag Søndermarken.
We train in the area called "Bag Søndermarken" (the Valby side of Søndermarken) opposite the restaurant "Bjælkehuset" – when coming from the street Bag Søndermarken.
The meeting point is the small hill with 8 trees in the field area on the left side of the path going past Bjælkehuset.
Parking
Parking is on the street called "Bag Søndermarken."
Note that you need to use a parking app. Make sure that you choose your position as "Frederiksberg" – the first 2 hours are free.
Bicycles can be parked at the training area.
Information and contact
For further information and sign-up for trial lessons please contact us at:
Email: info@aiki-shuren-dojo.com
Telephone: 40 86 32 12 (Ethan Weisgard)
---
Aikido Seminars 2020
PAOLO CORALLINI/ETHAN WEISGARD private joint seminar
See the list and details of the seminars>>
---
Aikido is based on natural and logical movements; it is a martial art that can be practiced by men and women of all ages to equal effect.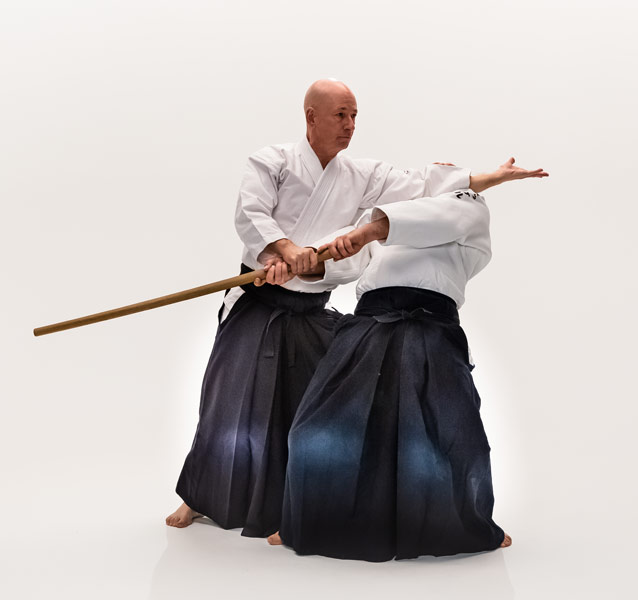 Photo courtesy of Lars Beyer 
The harmonious nature of the training environment and the defensive, non-competitive, non-aggressive attitude in practice makes for a very pleasurable atmosphere during training.
Aikido can enrich our lives on many levels.
Come and experience it yourself!
Ethan Monnot Weisgard – instructor & founder of Copenhagen Aiki Shuren Dojo
イースン・ワイスガード