Copenhagen Aiki Shuren Dojo accepts new members throughout the year.
Training at Copenhagen Aiki Shuren Dojo runs 12 months a year, with a summer/fall training schedule, in September the regular schedule resumes.
Training Time:
Beginners are welcome in all the Basic classes: See schedule here>>
Beginners also have the opportunity to participate in morning classes Mondays and Fridays from 9:30 – 10:30.
Trial lesson:
People who would like a trial lesson can come to any Basic class for this purpose. See the contact information below. Here is the schedule for training hours>>
Price:
The monthly fee is 350,- DKK for adults and 250,- DKK for the Children's Aikido group.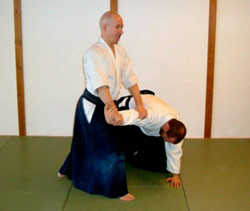 Language
The policy of Copenhagen Aiki Shuren Dojo is that classes are taught in English if there are people attending who do not speak Danish.
Beginners Training:
Copenhagen Aiki Shuren Dojo beginners' classes consist of initial stretching and warm-ups, body movement training, basic rolling and falling training (ukemi), and easy to follow, step-by-step training in basic techniques. People are able to enter these classes at any time throughout the year. As a beginner, you will be given special attention by the instructors.
Training clothes:
To begin with, you can train in any kind of loose-fitting outfit, or training suit. Keikogi (training outfit – basic judo/karate gi) can be bought at the cost of approx. 350,- DKK. Shuren Dojo instructors will be of assistance regarding the purchasing of a suitable keikogi.
Contact:
For further inquiries, information and enrolment: info@aiki-shuren-dojo.com
Or telephone 4086 3212 (Ethan Weisgard)