Aikido is based on natural and logical movements; it is a martial art that can be practiced by men and women of all ages to equal effect.

The harmonious nature of the training environment and the defensive, non-competitive, non-aggressive attitude in practice makes for a very pleasurable atmosphere during training.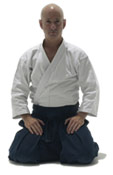 Aikido can enrich our lives on many levels.

Come and experience it yourself!
Ethan Weisgard
イースン・ワイスガード
---
Dojo Information
---
Aikido fall schedule 2014
Tuesdays
17:00 - 17:50: Youth Class
18:00 - 19:00: Bukiwaza
19:00 - 20:30: Basic
Thursdays
17:00 - 17:50: Youth Class
18:00. - 19:00: Basic
19:00 - 20:00: Bukiwaza
20:00 - 21:00: Advanced
Morning classes:
Mondays and Fridays
9:30-10:30: Basic
Wednesdays
9:30-10:30: Bukiwaza (aiki ken and aiki jo)

People who want to have a trial lesson are welcome Mondays and Fridays.

See training schedule here>>

Youth Aikido schedule:
Youth Aikido classes start again Tuesday 12 August.

---
New version of the Aikido Glossary 2014 as pdf file>>
---
Joint homepage for all our activities at Seidokan Japan Center
---
Support aid to Japan

Donate to Red Cross Japan through www.aikidoforbund.dk


---


CHILDREN'S AND YOUTH CLASSES IN AIKIDO
Børnehold / ungdomstræning i Aikido
Section of drawing by Line Møller Larsen
See "News" >>
---
PRIVATE INSTRUCTION
For more info click here
---
For more info see here>>

Ethan Weisgard
E-Mail: ethan@weisgard.com
Tel: 4086 3212
---
AIKIDO SWORD AND STAFF BOOK

Bukiwaza, Aiki Ken and Aiki Jo Basic and Advanced
by Ethan Monnot Weisgard. Photos : Karsten Damstedt

www.bukiwaza.com